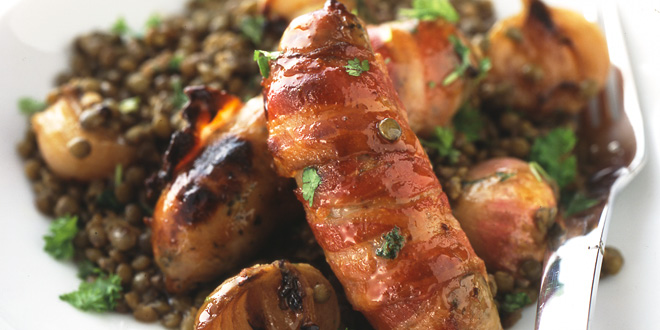 If you fancy a change from the usual sausage and mash why not go Continental? Tasty Toulouse sausages wrapped in pancetta and served on a bed of flavoursome puy lentils make the perfect mid-week meal.
Serves: 4 – Ready in: 40 minutes
1 tbsp olive oil
1 tsp brown sugar
150ml vegetable stock
2 tbsp red wine vinegar
1 tbsp Dijon mustard
8 Toulouse or chunky pork sausages
8 rashers pancetta or smoked streaky bacon, stretched with the back of a knife
2 tsp clear honey
3 tbsp chopped fresh flat leaf parsley
Place the lentils in a pan and cover with water. Bring to the boil then reduce the heat and simmer for 10 minutes.
Meanwhile, heat the olive oil in a deep frying pan and fry the shallots for 5 minutes, stirring occasionally, until just starting to soften. Sprinkle over the brown sugar and cook for a further 8-10 minutes until the shallots are golden and caramelised.
Drain the lentils and add to the frying pan with the stock, vinegar and 2 tsp of the mustard. Simmer for about 15 minutes until the lentils are just tender. Stir occasionally and add a little more stock, if necessary.
While the lentils are cooking, wrap each sausage with a pancetta rasher. Cook under a medium-hot grill for 8-10 minutes, turning frequently until the sausages are almost cooked through. Mix together the rest of the mustard with the honey and brush over the sausages. Cook for a further 3-4 minutes until the pancetta is crisp and browned.
Stir half the parsley into the lentils and season to taste with salt and freshly ground black pepper. Serve the lentils and sausages on warmed plates garnished with the remaining parsley.
[box type="shadow" align="" class="" width="800″]
Tip:
Try your local butcher or deli or visit a farmers' market to find the best quality Continental-style sausages. If you can't find Toulouse sausages, Lincolnshire, Cumberland or pork and leek varieties will work just as well.[/box]