Sage and pancetta roast chicken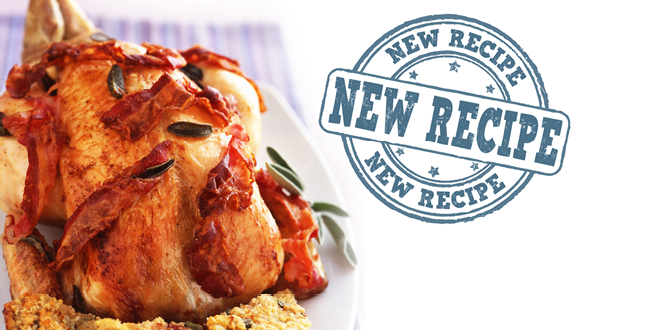 Give classic roast chicken a tasty makeover with a handful of fresh sage and some delicious smoky flavoured Italian bacon called pancetta. Look out for thin rashers of pancetta in the deli section of your supermarket or buy freshly sliced from an Italian deli. Serve with roasted baby new potatoes and lightly steamed vegetables for a wonderful summer Sunday lunch.
[box type="shadow" align="aligncentre" class="" width="1600″]
Serves: 4 – Ready in: 2 hours 30 minutes
1.3kg oven-ready chicken (preferably free range)
55g butter, softened
Few fresh sage leaves
Salt and freshly ground black pepper
1 onion, peeled and finely chopped
85g smoked pancetta slices
115g fresh white breadcrumbs
1 medium egg, beaten
Fresh sage leaves, to garnish [/box]
Preheat the oven to 190C, 375F, Gas Mark 5. Place the chicken in a foil-lined roasting tin. Smear half the softened butter over the chicken breast, legs and wings and scatter over the sage leaves. Season lightly with salt and freshly ground black pepper. Cover the chicken loosely with foil and roast in the preheated oven for 1 hour 10 minutes. Uncover and baste the chicken with any juices twice during cooking.
Meanwhile, melt the rest of the butter in a frying pan, add the chopped onion and fry gently for 5 minutes. Chop half the pancetta and add to the pan, frying for a further 5 minutes until the onion is softened and golden. Remove from the heat. Finely chop the rest of the sage and add to the pan with the breadcrumbs and seasoning.
Leave to cool then stir in the beaten egg. Press the stuffing mixture into a greased 18cm round shallow cake tin.
Uncover the chicken and top with the rest of the pancetta slices. Return to the oven and roast, uncovered, for a further 25-35 minutes until the chicken is golden brown and cooked through – the juices should run clear with no sign of pinkness when the thickest part of the thigh is pierced. Cook the stuffing in the oven at the same time until set and pale golden.
Remove the chicken from the oven, cover and leave to rest for 10-15 minutes. Cut the stuffing into wedges and serve on a platter with the roast chicken, garnished with the fresh sage leaves.
Tip: To make light gravy to serve with the roast chicken, drain off any excess fat from the roasting tin then heat the pan juices until sizzling. Add a splash of dry white wine or sherry then stir in a little plain flour and 1 tsp wholegrain mustard. Cook for 1 minute then gradually pour in 400ml hot chicken or vegetable stock and slowly bring to the boil, stirring all the time. Simmer for 3-4 minutes until just thickened. Season to taste with freshly ground black pepper.