Is your lawn in need of some TLC? If during the school holidays your lawn doubled up as Wembley, Lords or Centre Court at Wimbledon, how can you revive your lawn with some tender love and care?
Lawn Feed And Weed Treatment
If you have not given your lawn a feed and weed treatment, it is not too late. Lawns need a balanced supply of nutrients all year round to help them look lush and green. You can purchase an autumn lawn feed from garden centres. If you have any weeds present you still have time in early autumn to get rid of them by hand, or by using a dedicated lawn weed killer product. Just be careful not to over apply the feed and weed products, otherwise, you can cause long term lawn damage.
Renovation
Many lawns have a layer of organic matter on the soil surface, which limits water and nutrients from reaching the roots and encourages moss. If you have more than 2cm of thatch or moss consider raking or mechanically scarifying it out. Water daily if no rainfall is present, and for larger areas, it is advised to use a more efficient petrol scarifier. For moss, use a moss control product before lawn scarification.
The soil under the lawn will have become compacted from the summer use. Compaction means the grass roots cannot grow very deep, leading to the less drought tolerant lawn as well as decreased overall grass health and appearance. To reduce compaction, it is advised to annually aerate the lawn with a hollow tine aerator machine – forking over the lawn does not relieve compaction.
To thicken up the lawn, spread quality grass seed over the lawn, especially after scarification and aeration, then water daily via a sprinkler if no rainfall. In a couple of weeks, you will have lovey green shoots appearing. For smaller patches, thinly spread some top soil, add grass seed, lightly rake over then water daily.
For larger areas turf can be a better approach with autumn an ideal time due to the increased rain and soil moisture to get the turf to establish. Great for either a new lawn or for larger areas to repair. You can use a spade to cut and slice out the patchy turf, add top soil to level then lay the new piece of turf. Remember to water daily until the roots establish in a few weeks.
Mowing And Leaves
Reduced sunlight and temperatures mean slower grass growth. Time to raise the mower up a height or two and aim to cut off the tops each time. If you have trees nearby, keep any leaves off the lawn as they will cause the grass to turn yellow or kill it off in a few days. Cut back overhanging vegetation blocking the sunlight to the lawn as it will lead to a greener, less patchy area and limit moss appearing.
If you are unsure of the DIY approach, or lack time, consider contacting a local lawn care company, who typically offer a free lawn survey and quote to undertake your autumn renovation.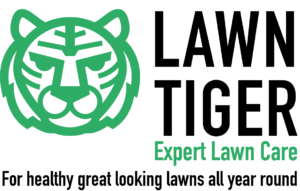 By Russell Cobley