Indulgent Indian Style Spicy Chicken With Rice Noodles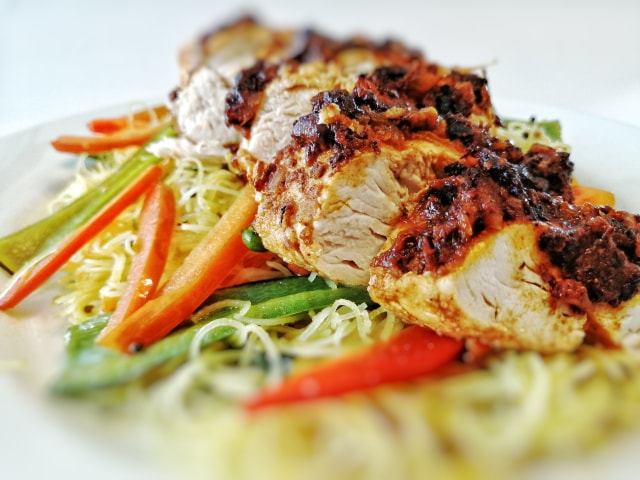 Indulgent Indian Style Spicy Chicken With Rice Noodles
Mark says: "This is a spicy dish, but you can always use a milder chilli powder if you prefer. There should be plenty of sauce on the chicken to incorporate into the noodles, so it isn't a dry dish. Who needs to go out for an Indian or even get a takeaway when you can make this quick and easy dish in the comfort of your own home? I hope you enjoy as much as we did."
Ingredients:
Four Chicken Breasts
For the marinade
One tsp Hot Chilli Powder (or two of mild)
1/2 tsp Salt
1/2 tsp Sugar
One tsp Ginger Paste
One tsp Garlic Paste
Two tbsp Vinegar
For the sauce
2cm stick of Cinnamon
1/2 tsp Black Peppercorns
1/2 tsp Cumin Seeds
1/2 tsp Fennel Seeds
1/2 tsp Coriander Seeds
Four Cloves
One tbsp Vegetable Oil
Two Garlic Cloves, minced
One Onion, finely chopped
One tbsp Tomato Purée
Three tbsp Water
For the noodles
100g dried Rice Noodles
Two tbsp Vegetable Oil
One tsp Mustard Seeds
Ten fresh Curry Leaves
Two Green Chillies, cut length ways
1/4 tsp Ground Turmeric
1/2 Red Pepper, thinly sliced
Method:
Mix together the marinade ingredients and rub over the chicken breasts then set aside for 30 minutes.
For the sauce, mix together the spices and roast them in a dry frying pan until they begin to colour.
Using a pestle and mortar, grind the spices to a fine powder.
Heat the vegetable oil in the pan and fry the garlic until it starts to turn golden.
Add the onion and cook until softened, then add the spices, make sure you stir briskly to stop them from burning. Add the tomato purée and cook for a further two minutes, stir in the water and set aside.
Preheat your oven to 180 degrees, place the chicken onto a baking try and cover each breast with the sauce, cook in the oven for around 20 minutes or until the chicken is cooked through.
Cook the rice noodles according to the packet instructions.
In a large pan heat the oil then add the curry leaves and mustard seeds. Once they start to crackle add the chillies and turmeric, stir and cook for a couple of minutes.
Drain the rice noodles, add to the pan along with the sliced pepper, stir through for a couple of minutes and then serve with the chicken.
For more recipes visit www.amouthfulofmark.com