Haywards Heath Lions Club Promote Message In A Bottle Scheme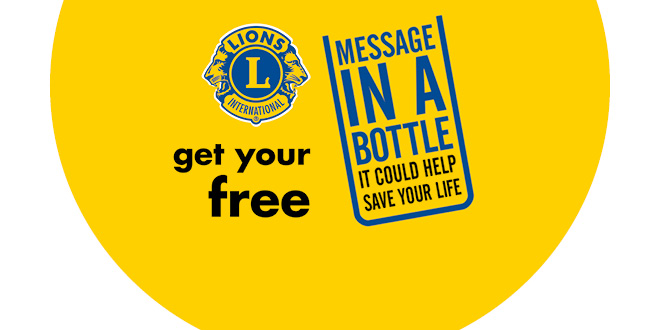 Haywards Heath Lions Club is promoting a new concept that enables people to inform the emergency services of the medication they are on.
Peter Parr from the Lions Club told us the concept is known as "Message in a Bottle" or MIAB and was the brainchild of a policeman way back in 1999.
The pack consists of a small plastic tub containing a medical form and two stickers. One sticker is for the inside of the front door where it can be easily seen, and the second sticker for the fridge door.
MIAB is available to all, for free. Nikki, a member of the Lions was someone who used the MIAB scheme and described the benefits.
She said: "I have an enormous amount of gratitude for MIAB as the bottle in my fridge has saved my life on numerous occasions. Being a diabetic transplant recipient I suffer from hypoglycaemic attacks which occasionally lead to me slipping into a coma.
"Having seen the sticker on the front door, emergency services will know to go straight to the fridge where all my medical notes are stored in my message in a bottle.
"This also means one less worry for family members, in my case my teenage son who has also saved my life on several occasions. I don't know where I would be now without MIAB".
Message in a bottle is available to anyone who would like to use it and is not restricted to serious medical ailments as any information can be useful in a medical emergency.
Lions clubs through the UK supply these kits to health centres, doctor's surgeries and chemists. They are also available direct from Lions clubs.
If you would like further information, please contact Haywards Heath Lions on 0845 8335807 or www.lions.org.uk