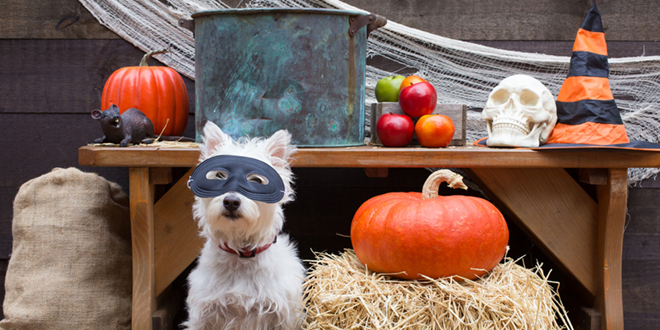 This October enjoy the fright of your life with our list of spooky-themed events and ideas to make your Halloween spooktacular!
October 31st has long been a celebration of the ghoulish and the ghostly, a tradition dating back around 2,000 years with origins in the old Celtic festival of Samhain, which celebrated the end of the harvest. Today, Halloween is a firm fixture in the British calendar after being a long-term mainstay in the US.
The Gaelic people believed that if the crops weren't harvested on time, then the dead would come back to life to destroy what was left and wreak havoc – if you're looking for some gruesome events and ideas we've got a list of spooktacular events going-on in Sussex and Surrey and things you can do at home.
Ideas for Halloween themed games!
[one_third]
Apple Bobbing
You will need:
Large bowl or bucket
Large towel or plastic sheet
Apples
Towels for drying-off
How you'll do it:
Fill bowl or bucket with water and place on towel or sheet
Put in apples and let each participant take turns getting as many apples as possible (hands MUST remain behind backs!)
TIP: Why not make it a blood bath? Add red food colouring to the water
[/one_third][one_third]
Pass the pumpkin
You will need:
Music
A hollowed-out pumpkin
Goodies to fill the pumpkins
How you'll do it:
Pass-the-parcel meets Halloween played in the traditional way with music
Each time the music stops whoever has the pumpkin can select something from the pumpkin
TIP: Set the mood music… Choose Halloween-themed music such as Michael Jackson's Thriller!
[/one_third][one_third_last]
Pin the tail on the black cat
You will need:
A cut-out of a black cat
A cut-out cat tail
A blindfold
A pin
How you'll do it:
Another variation on an old classic – each player has a go at pinning the cat's tail on After each player has a go whilst blindfolded, the closest is the winner
TIP: Trick 'em or Treat 'em? If a player is wildly off the mark why not offer them a trick as a forfeit!
[/one_third_last] [box type="shadow" align="" class="" width="800″]
A terrifying two for you!
[one_half]
Arundel Halloween
The Wildlife and Wetlands Trust in Arundel, West Sussex is organising some interesting and creepy Halloween events during the half term break. For more information, visit:
www.wwt.org.uk/martinmere/
[/one_half][one_half_last]
Halloween Shriek Week at Drusillas Park
Drusillas Park in Alfriston, East Sussex has some innovative and engaging Halloween activities for children during its Shriek Week. For more information, visit:
www.drusillas.co.uk/
[/one_half_last][/box]
By Jacob White