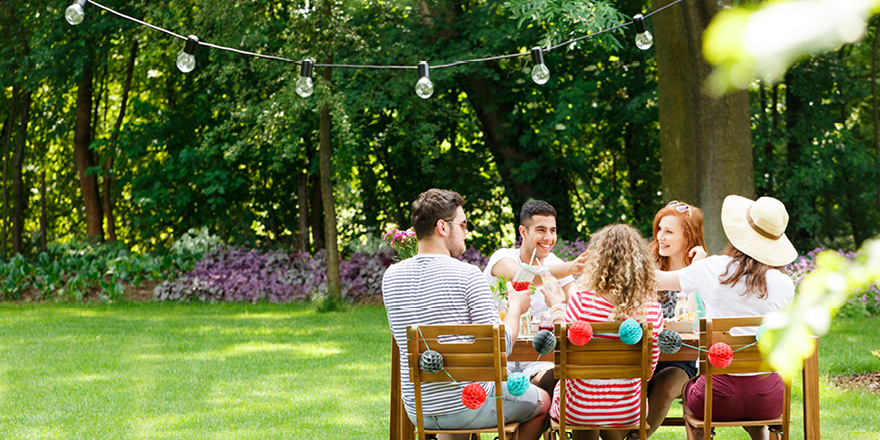 The summer holidays are here and whether you are looking to create your own garden getaway or recreate a garden which takes you back to a past summer holiday location,
make sure this is the month that you embrace the outdoors. August is the perfect time to go outside and go, go alfresco!
Are you looking to make the most of your garden this summer? Fingers crossed that August serves up a real weather treat, and if it does, what additions can you make to your garden to make the outdoors as comfortable as the indoors? To truly enjoy the outside think about what easy ways you can style it up!
Take A Seat
If you are going to go alfresco you need to do it comfortably. Start by picking comfortable seating which you and any house guests will happily while away the hours in. When it comes to garden furniture think about the size of your garden and what you have to play with as well as storage in the season other than summer and what maintenance might be required with the furniture you buy.
Accessorise
For you and your house guests to go alfresco think about what accessories you might like to add to the garden. Some accessories will be functional ones – parasols, tables or blankets, whilst others will be purely aesthetic – statues, bird tables or outdoor clocks. Whatever you decide on, choose accessories which take weather conditions into account, after all the British weather is very changeable!
Feel The Heat
There is nothing quite like feeling warm water bubbling up as you lounge in the garden with a glass of something fruity! If you are looking to create your own garden spa think about a hot tub which can help you to relax after long and stressful day. Hot tubs vary in size and what they offer and can be a luxurious addition to any garden – surprisingly, hot tubs are not the high price they once were if you shop around.
Play Days
If your garden doubles-up as a play area think of the alfresco living you can create for your children for their play days and play dates. Why not create a dedicated area of your garden to children where they can run around and play to their hearts' content? A playhouse or tree house is a great idea if you are particular about your lawn and what is more the structure can be used for garden toy storage!
[box type="shadow" align="" class="" width=""]
What Is In A Word?
The word alfresco originates in mid-18th Century Italian and literally means in the fresh (air) and is generally used to describe eating outside. Interestingly, today, however many Italian speakers are more likely to use the phrases fuori or all'aperto to describe outdoor dining, while the expression alfresco usually refers to someone spending a period of time in prison.[/box]
By Jacob White