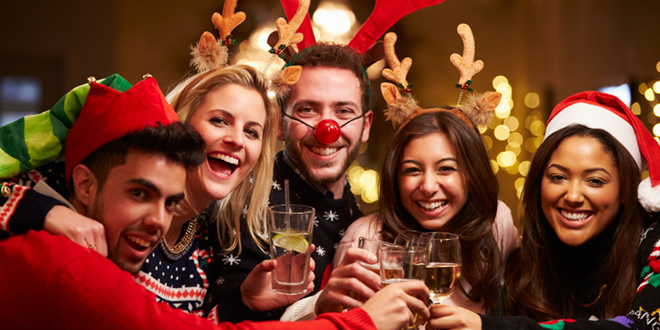 Festive food and fizz ideas to make your party go with a bang!
The most wonderful time of the year is just around the corner and for many of us, one of the best things about the festive period is all the fizz and food on offer!
So much so, that us Brits spend £6.4 billion pounds on our supermarket food shopping alone, in the run up to the big day!
Whether you're hosting at home, or planning a spectacular feast for work friends, here are our top tips for making sure your party food starts celebrations in delicious style!
Hostess with the Mostess
Christmas is one of the busiest times of the year – there are presents to buy, loved ones to see and social occasions to plan, but that shouldn't put you off opening up your home and hosting a festive get-together. By keeping it simple, you can keep any unnecessary pre-Christmas stress at bay and just enjoy spending time with your nearest and dearest.
A buffet, where everyone can help themselves is one of the easiest ways to cater for all and also means that you don't spend all of your time in the kitchen cooking up a three course feast. Instead, you can mingle, keep glasses filled and be the hostess with the mostess!
As well as favourites such as cheeseboards and crackers, vol-au-vents and pork pies, mix up your buffet with new flavours including hummus and carrot sticks, falafels and Spanish-inspired meat platters. Don't forget that some of your guests may have dietary requirements – perhaps they may be gluten free, vegetarian or vegan? If so, don't panic! Crudités and homemade dips are a safe option, and you can now pick up a fantastic range of free-from products from most supermarkets too. To save yourself baking and creating lots of desserts, try this month's delicious recipe (spiced orange and almond cake), which is suitable for most guests (bar those with a nut allergy).
Drinks-wise, buy beers in for the boys, and if you really fancy wowing your lucky guests whip up a refreshing Bellini. No-one need know that it's as simple as mixing 50ml of peach puree with 100ml of cold prosecco! Aromatic mulled wine and bucks fizz are always favourite festive tipples!
Party Planning Extraordinaire
Been tasked with planning the all-important office do? It's time to get cracking! To make sure as many people can attend, discuss a few date options, well in advance so that babysitters can booked and other plans don't get in the way. Don't forget to ask for suggestions on where people like to go and focus your restaurant search nearest the area where most party-goers live; guests can then easily attend together and order taxis or arrange lifts to avoid driving.
The majority of our local restaurants and hotels have a tempting array of set festive menus and some even offer festive entertainment which help to make budgets – and the celebrations – stretch further.
However, if an evening do is out of the question (we all know just how busy the weeks leading up to Christmas are, after all), don't despair.
There are plenty of lunchtime options too; be it heading out for lunch (set menus are even more reasonable during the daytime!) or organising a professional catering company to deliver a delicious banquet to the office, there really is a plethora of choices for creating a works party to remember!
By Shelley Welti