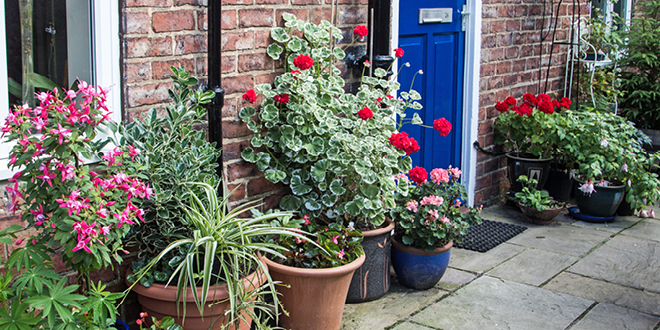 It can be all too easy to overlook a front garden, but overlook it at your peril! A front garden is a real asset to you and your home, it is the first impression visitors receive and it is also the first and often most enduring thing that a potential buyer sees. Whether you plan to impress visitors or sell, there are some simple things to help your home and garden achieve much that much sought after kerb appeal.
A makeover does not have to mean spending huge amounts of money or putting in lots of effort, in fact it is about tweaks which can give your home the welcoming and friendly vibe, otherwise known as kerb appeal.
Whether you are looking to sell your home or not, the exterior appearance of a house will make it more sellable and attractive to prospective buyers. Kerb appeal tweaks mean you will be adding value to your home. To achieve kerb appeal in the most basic sense, think about what you might like to see as either a visitor or as a buyer – have a general tidy-up, paint old, flaky woodwork and neaten cracked brickwork.
You may find some areas of the front of the home are beyond simple repair so expert help might be required but look at where you might be able to save money. Prioritise the more necessary repairs which include work on walls, roofs, windows and doors – all of these repairs can in some way save you money, make your home more efficient and environmentally-friendly as well as far safer.
As well as structural kerb appeal, how does your garden grow? A front garden can look great or simply grate, therefore look to brighten it up with window boxes, hanging baskets, troughs or tubs. Look for different varieties of plants and flowers which will add something different each season and at the same time add an appealing welcome and do not forget to trim where trimming is needed!
If lawn maintenance is not your thing, think about alternatives to grass, choose gravel or pebbles, these are a great idea if you are looking to add a relatively cost-effective way to obscure some unfashionable garden trends of days gone by such as crazy paving or a boring concrete hardstanding area. If your budget is a little more generous, slabs can be added to bring down any maintenance needed and adds some style.
In some town centre locations the greatest kerb appeal is an escape from it and the construction of a driveway. Creating off-street parking can add phenomenal amounts to your property, however, you will need to outlay a significant amount of money first before you begin to see a return – think long and hard about whether a driveway is the best investment for you before making a decision.
By Jacob White