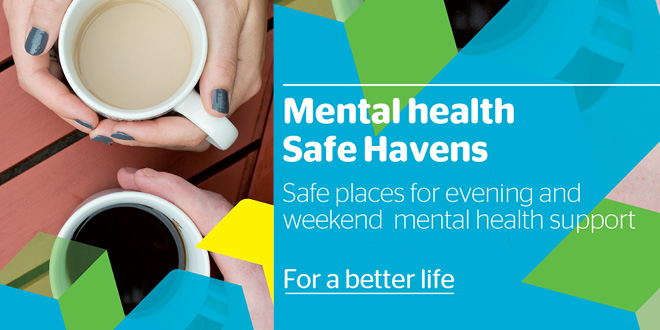 'Coming in here, it's literally been a life saver'
These are the words of a visitor to one of the Safe Havens that are currently operating around Surrey, and which are proving to be a lifeline to many people suffering from mental health issues.
In our complex society with pressures of all kinds coming at us from every direction the need for adequate mental health care is increasing at an alarming rate.
The NHS with its resources stretched to breaking point is struggling to cope in many areas and waiting times for treatment are often unacceptably long, exacerbating patients' issues and distress.
Often urgent help is needed and cannot be adequately provided by an A& E Department. Thankfully, due to the work of the 'Safe Havens' project this help is now available year-round in Redhill, between 6.00pm-11.00pm, a time when many other health providers are closed.
Run in partnership with Surrey and Borders Mental Health Trust, charities Richmond Fellowship and Reigate Stepping Stones run a Safe Haven at the Wingfield Resource Centre in Redhill.
Following a pilot scheme in March 2016, demands for its services shows no sign of stopping – with other venues in Epsom, Guildford, Aldershot, Woking and Camberley, the Redhill project provides a place for anyone.
Here, help can be accessed from experienced professionals who are fully equipped to deal with mental health issues and who can guide people to the best possible help/agencies for their particular situation.
Visitors can understand and empathise over a cuppa' – the atmosphere is relaxed and friendly, there is no pressure to talk or divulge anything unless the client is willing to, conversations are at their own pace.
No appointment is needed and there is no charge, anyone can drop in during opening hours. The service is also available to carers who may need support and advice on how to best help those in their care.
Telephone assistance from other sources is beneficial of course, but there is nothing quite like being able to speak to someone face to face to make a real connection.
When chatting to people in person the advisors are better able to discern their needs and situation, and the client has a more tangible experience to which they can relate.
Hopefully, we are approaching a time when mental health issues will be better understood and treated; in the meantime, places like Safe Haven are an essential resource.
[box type="info" align="" class="" width=""]
For further information, visit: www.sabp.nhs.uk/safehaven or, call Surrey and Borders Partnership on: 0300 5555222
Redhill Safe Haven, Wingfield Resource Centre, St Anne's Drive, Redhill RH1 1AU
[/box]
By Sarah Ballingal